Top 5 | Beaches
Photo by Chris Taylor Photography
Sporting over nearly one hundred miles of coastline, there is always a Norfolk entry in any 'best UK beach' listing. This is Norfolk Passport's guide to the top-5 best beaches in our county. Somewhat quirky, unpredictable, completely personal.
Hunstanton
Just look at that expanse of yellow on the map! Traditional seaside attractions in  town but head for the Lighthouse and the ruined 1272 St Edmund's Chapel area and explore the beach; stripy fossil-rich cliffs, the wreck of The Sheraton, (a commandeered troop ship run aground in a stormy 1947), those algae-covered rocks in weird regimented formation, mussels to pick from their beds at low tide.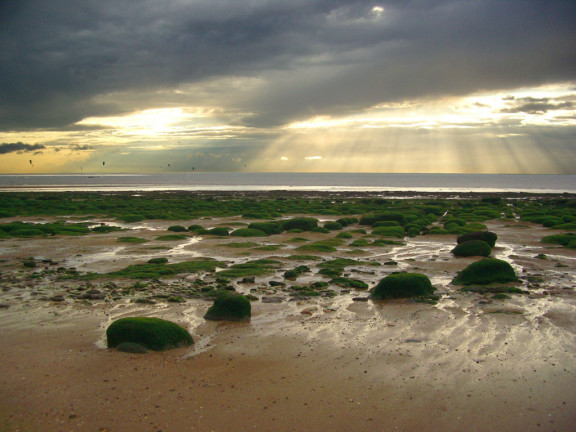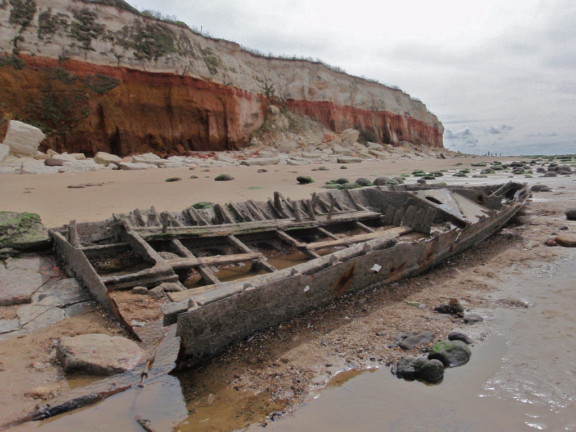 Holkham
Always a favourite with the National Press, rightly so though a beach to look at rather than engage with perhaps? However, plenty of children and their pack-mule parents decamp here for a day's swimming, sandcastle-making (click on the image to look at this beauty!) snoozing and general dune exploration. Four miles of white-gold sand, a basin of samphire and sea lavender that fills up on hide tide, 'Somewhere to catch your breath in a busy world', so says Lord Coke. 
Much to look out for in winter; the tideline post storm, exhausted migrant birds, dawn and dusk sights and sounds; overwintering pink-footed geese, sharp winter light. Not so obvious summer delights; Orchids in Wells Dell, dark green fritillary butterflies and dancing male ghost swift moths. Beat a less trodden path to the beach by walking left, parallel to shore, through pines and behind first bird hide by way of boardwalk and out onto the vast empty sandy expanse.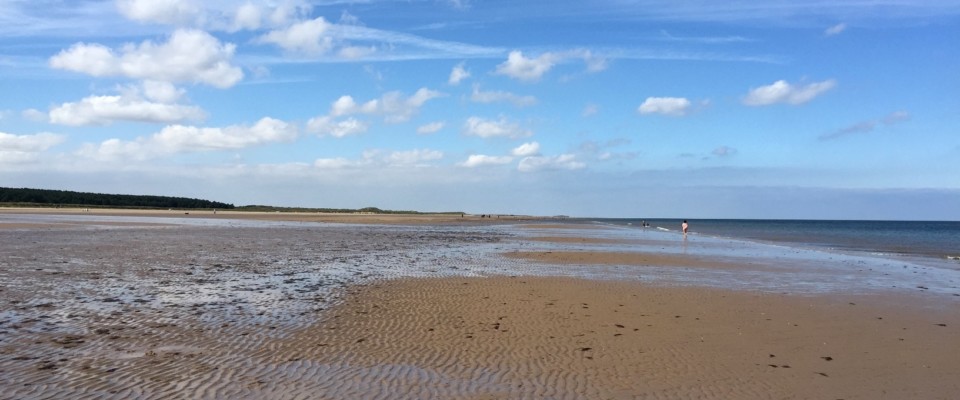 Cley
Sometimes sandy, mainly shingle, Cley offers an unmissable vista back to land, taking in coastal community landmarks such as Cley Mill and Salthouse Church. Its now unmanaged shingle bank landward-side ribboned with saltmarsh creeks and associated flora and fauna. Stroll any amount of way west in the direction of Blakeney Point's shingle sand spit to catch its moody magic. Dispel a gloomy mid-winter's day with appropriate clothing and pockets of treats and plod parallel to the sea.  Summer sun induces picnics, papers, bathing (for some) snoozing and mackerel fishing. Both the shifting shingle bank profile and the tideline always turning up something new to see.
Cromer
Why not walk into town? From the west and The Runtons or easterly Overstrand for a good leg stretch. Happy Valley Lighthouse (through Cromer, park on main road at Cromer Golf Club) affords sweeping views over countryside, town and its church spire and sea before descending to the beach by way of steep wooden steps – just ask if you can't find them! Cliff-top prom views, East and West beaches, a veritable selection of old tractors thanks to longshore fishing, the Pier, Mary Jane's' fish and chips, the Rocket House Café for coffee and a twizzle biscuit, the Boxing Day Dip, the magical New Year's Day firework display.
And in at No.5...?
A cheat! Already way over word count and miles to go, No. 5's slot is for all those expanses of 'beach' out there whose common traits include sand and solitude but whose individual vistas mark them as unique: Wells, Holme, Titchwell, Brancaster, Burnham Overy, Overstrand, Sidestrand, Sea Palling, Winterton. Find them on the map, share with us your route and the stories of your day and we'll share them online.